Yoga & I go way back, to my first semester in college. At first, I took yoga because I was overwhelmed with the schedule I had made for myself. I was originally going to take a history class, to add to the 15 units I had planned. However, I quickly realized that I couldn't handle that many classes, and switch the history for a beginning yoga course.
Best. Decision. Ever.
At first, it was a little strange, breathing weird and putting myself into positions like cat & cow. I felt out of place, and envied the girls who positioned themselves in the front of the class who could contort themselves into crow on the first day of class.
But my teacher was the most amazing teacher I have ever had! If I still lived close to my community college, I would take her class forever & ever. She had this energy about her that made me fall in love with yoga.
While her spirituality was not what you'd expect from a yoga instructor, I loved it! She was a Catholic, so a lot of her spiritual teaching stemmed from her faith. One of our assignments was to take a picture of a place that we loved to go to meditate and reflect. Naturally, I chose Laguna Beach:
To me, yoga is about a personal experience. I find yoga to be a healing process & time spent with God. My mediation is spent with Him, and my first yoga teacher taught me that that is just fine. I always stayed away from yoga because I thought "Well, yoga is for people who believe in chakras & energies & weird things that don't involve my faith with God."
But it doesn't have to be that way.
Yoga is personally spiritual. You can allow any faith component you'd like. The important thing about yoga is that you find a place of peace, nothing more. In my chaotic world, yoga helps me to stop for an hour once or twice a week to reflect & recuperate.
As I've grown in my practice, I have strayed from consistency. However, with Courtney's June Yoga Challenge, I feel rejuvenated & inspired to practice yoga more!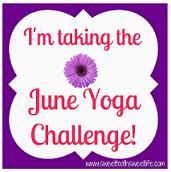 Her challenge is organic in that she encourages everyone to come up with their own challenge. Whether it's practicing yoga everyday, or once a week, Courtney is challenging everyone to challenge themselves! I think it's a great idea &, although I am 10 days late, I figure I still have 2/3's of the month to rise to the challenge!
My goal:
Practice yoga 3x a week, for 1 hour: I already go to 1 class per week at my local gym, but I want to up the ante. I feel that, by incorporating yoga into my life a little more, I can reduce my risk of running injuries & find time with God.
I'm super stoked for this challenge! I can't wait to start & I encourage you call to join if you want!